Plumbing
When things start to back up or leak, call M.C. Plum, Inc. to get things flowing smoothly. Whether it's a clogged toilet drain or a backed up sewer main line, M.C. Plum's experienced plumbers will get the drain flowing in no time.
Here at M.C. Plum, Inc., we are experts in both residential and commercial drain and sewer. We are experienced in plumbing in single family homes, apartments or condos to restaurants, businesses or commercial buildings. We are fully equipped to handle even the biggest clogs.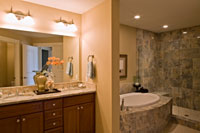 We not only do we fix leaks and clogs. We also install fixtures for your bathroom and kitchen.  We can help you with your next home renovation by installing, sinks, toilets, top brand faucets, garbage disposals, water softeners, purified drinking water systems, Jacuzzis, bath tubs and showers. Let our experts help you in developing a luxurious bathing experience of your dreams or a modern kitchen upgrade for those family get togethers.
We know just what do to help with an existing leaking kitchen faucet, bathroom faucet, laundry and faucet or a tired, worn out sink. No problem is too great for our highly trained plumbers. From a sink replacement, to a faucet repair or upgrade, our experienced team gets the job done quickly and affordably.