Digging & Excavating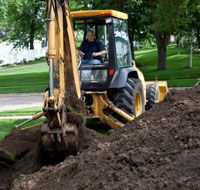 M.C. Plum, Inc. knows that quality wells begin with the best products. We are there for you when you need digging for new water and sewer lines. We only install the best quality equipment in all of our water systems. From Prompt and reliable service to courteous employees, we offer only the best for our customers.
There is no job that is too big for M.C. Plum, Inc. We help from start to finish when it come to your plumbing needs. We help dig the trenches for your sewer lines as well as get prepare you for the installation. We use excavators for most jobs that involve digging trenches, excavating hillsides, stump removal, foundations, and any large hole in the ground such a swimming pools, hot tubs, ponds, septic systems, etc.
Contact us
to find out how we can serve you.